Digital Hybrids are hard! Experience comes from making mistakes, and lets say I got a lot of experience here. The promise of digital imaging for implants is that we can bypass messy impressions and even messier luted jigs and pick up impressions for a corrected cast. In this case I wanted to see if we could get a well fitting hybrid just using the Primescan. This patient had existing upper and lower stud type (locator) over dentures and we wanted to convert to a hybrid. This was done at Brighterway in PHX where we serve the less fortunate for free. Scanned with MUAs with DESS traditional (non titanium) scan bodies. Use the titanium, first mess up it was a bitch to scan. Second, you can see a bunch of composite dots on the gums, those are facial markers. The uppers stick great, the lower, not so much. We use them to relate the bite of the pre op with the scan body scans. Pro-tip: Haul ass when scanning. Sequence it like this, remove the existing all on 4 temp hybrid composite screw access holes, place dots on the upper, then lower, scan and get the bite. Then scan the lower FIRST! I made the mistake of scanning the upper first, always scan the lower scan bodies first as the markers all fell off!
In order to get the option of STL Export, you need to match up the scans. Did my best, but not good enough as you can see.
So here are the images in CEREC Primescan. And you can see the composite dots all fell off! This was sent to the ExoCAD master, Daniel Portal who did his best matching the scans in ExoCAD.
So here is the final done by the amazing folks at Burbank Dental Lab. As you can see the lower midline is off, and we had to grind the bejesus out of it to get it seated. But it fits well and the patient will have a strong, long lasting Zirconia hybrid. This was a charity case and the patient was expecting another removable hybrid, so obviously he was blown away when he walked out with fixed.
We are doing a CEREC Live Patient Implant Course in Phoenix where we will cover CEREC Guide 2, Scanning with Scan Posts for Abutments and Crowns, as well as demoing full arch scanning with Primescan and Digital Dentures! Feb 20-22 2020
https://ea288.infusionsoft.com/app/manageCart/showManageOrder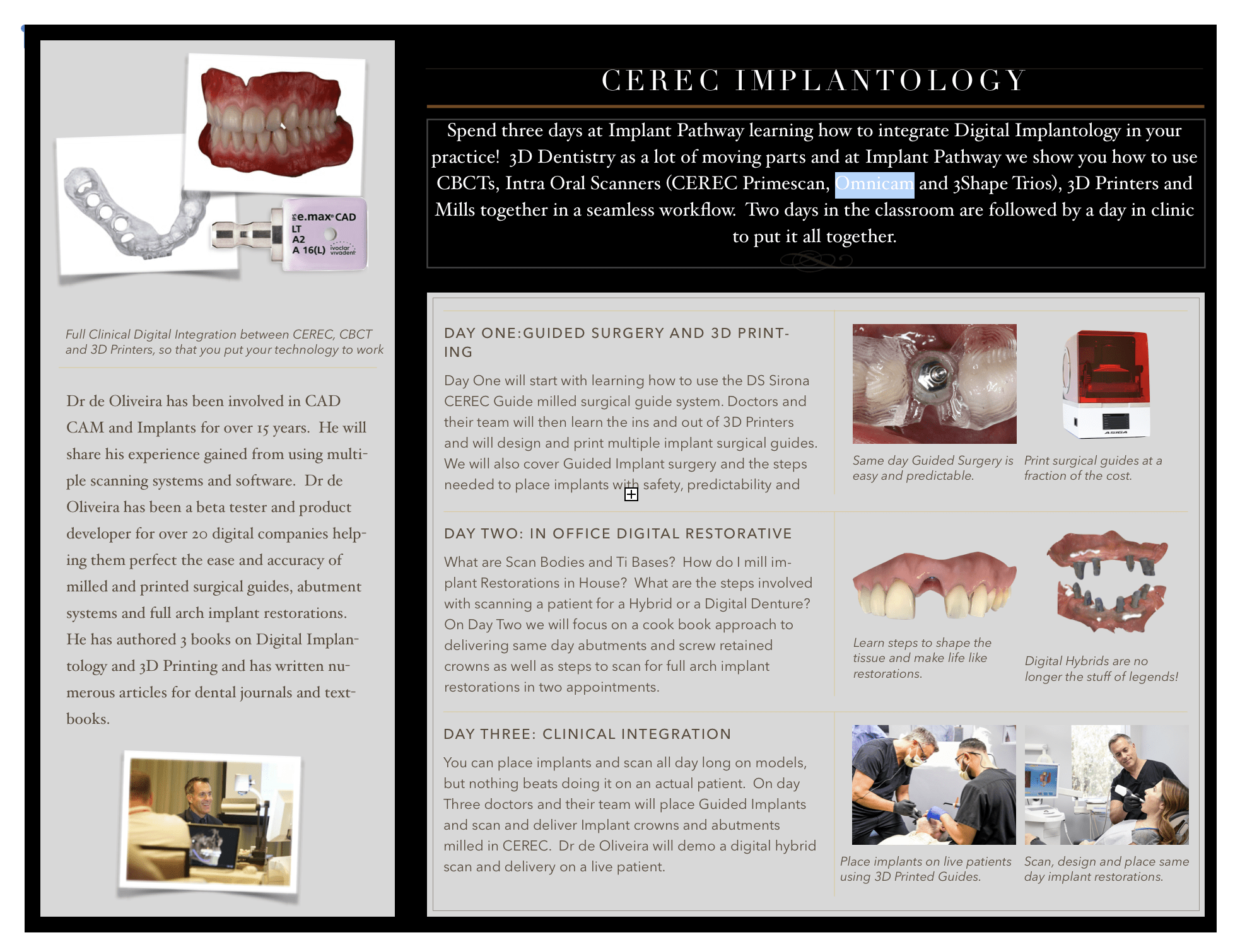 If you want to know how to make guides, aligners, digital dentures and more, come to a 3D Printing party!! Dec 13-14 in Minneapolis!!
https://www.eventbrite.com/e/dental-3d-printing-party-minnesota-tickets-68513003237