At Brighterway we treat the homeless and low income vets with full mouth implants. Sometimes they are temporized with a converted denture, which is fixed. But depending on the stability of the implants, we sometimes give the patient located over dentures, which have a full palate and the lowers are extended to the retro molar pad, just like a regular denture. This can be bulky and decrease taste, but are very stable and retentive. In this case I wanted to remove the palate and shorten the flanges on the lower. To do so you need bars, and where some go wrong is they don't re enforce the prosthesis. Also, if you have a low smile line, and overdenture is a nice way of getting a great final restoration but having lip esthetics. Also, as is this case, manual dexterity becomes and issue cleaning hybrids, so an overdenture can help. Scanned with the new DESS MUA level titanium scan bodies and sent to the great folks at Burbank Dental.
Getting the bite on hybrids is tough. You need to scan a converted denture in the mouth, but be able to relate to the scan bodies. In this case we scanned the patient's existing dentures in a CBCT and cut a window to the scan bodies. Since the scan bodies will be in the bite scan, we don't need markers.
We added some composite markets to help us relate and used the indentation of the locators to help know where to cut in Meshmixer.
You can see how the bite shows the scan bodies and everything was matched up in CEREC. CEREC will not let you export until you get the bite matched up, so don't let the patient leave until then.
The fit of the var was great and the wax try in went through without a hitch. We took an additional scan of the locators to match the scan to the dentures so that lap had a reference for the midline.
As you can see, Burbank did a great job of matching up everything and reinforced the prosthesis with metal reinforcement for strength and to get the size down. Super retentive and this vet was thrilled with the end result!
We are doing a CEREC Live Patient Implant Course in Phoenix where we will cover CEREC Guide 2, Scanning with Scan Posts for Abutments and Crowns, as well as demoing full arch scanning with Primescan and Digital Dentures! Feb 20-22 2020. If you are a Trios user we can adapt the hands on for you!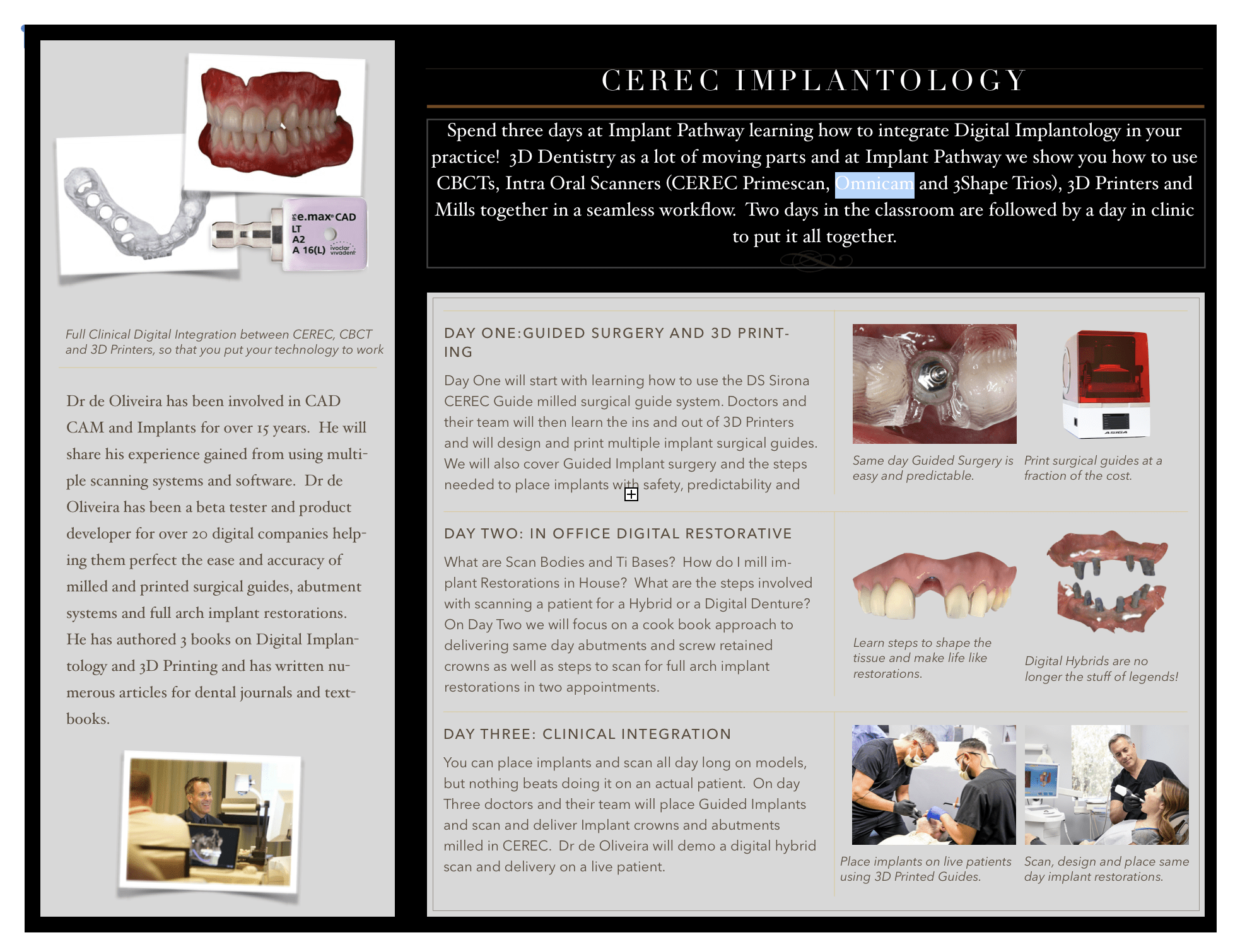 If you want to know how to make guides, aligners, digital dentures and more, come to a 3D Printing party!! Dec 13-14 in Minneapolis!!
https://www.eventbrite.com/e/dental-3d-printing-party-minnesota-tickets-68513003237