If you know me, one of my biggest idols in Dentistry is Dr Jerry Niznick, the Godfather of modern implant dentistry. If you are not familiar with Dr Niznick he brought us the internal connection implant, founded Implant Direct, and more or less single handedly brought implantology to GPs. So I was honored and terrified when he broke #8 and wanted me to do his immediate implant, which incidentally I did in CEREC Guide 1! So with both honor and sheer terror, I got to do an Immediate Implant on his wife on a #19, non guided at his request! Also, if you know me, you know I like to do Immediate Molars by drilling through the tooth. So here goes! #19 non restorable sue to fracture and decay. I initially wanted to do a 7 by 11.5 Legacy 4, but Dr Niznick used is amazing powers of persuasion to do a 13mm. He initially wanted a 16 but I stood my ground!
It is pretty common now, but if you are not familiar, most just pull a molar and are no faced with dealing with the inter radicular bone, which can deviate your drill into the mesial or distal root sockets. I take a carbide 557 surgical bur, cut a large hole in the furcation and also section bucco-lingually. For kicks send the radiograph with the angulation pin to your endodontist and say you perffed :} . I try to go up to at least a 3.4mm drill to get a hole centered then remove each root.
7 by 13mm Legacy 4 implant (per Dr Niznick's request, I wanted to do a custom abutment, but he gets what he wants :]) . packed MFDBA, a collagen membrane and gel foam on top. Maybe a 1mm too long but wanted to be at the furcation level.
If you want to see multi color printing in action come to one of my courses below!
We are doing a CEREC Live Patient Implant Course in Phoenix where we will cover CEREC Guide 2, Scanning with Scan Posts for Abutments and Crowns, as well as demoing full arch scanning with Primescan and Digital Dentures! Feb 20-22 2020. If you are a Trios user we can adapt the hands on for you!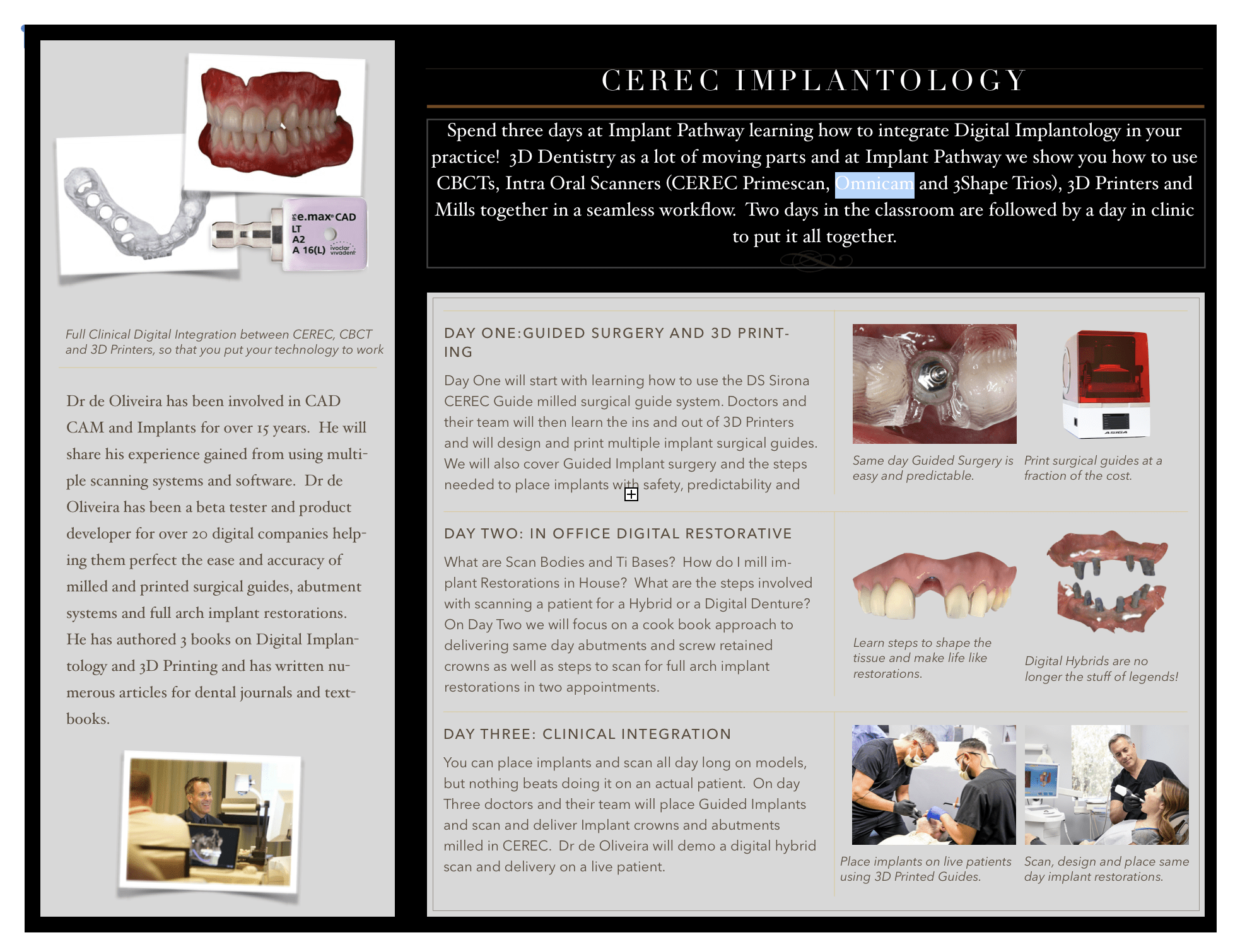 If you want to know how to make guides, aligners, digital dentures and more, come to a 3D Printing party!! Dec 13-14 in Minneapolis!!
https://www.eventbrite.com/e/dental-3d-printing-party-minnesota-tickets-68513003237