So, with a bit of sadness, this is my last case at the Brighterway Clinic. If you have been following my posts, I have been volunteering at Brighterway which is a dental clinic associated with a homeless shelter in Phoenix, AZ. The clinic also helps low income vets, battered women, and the working poor. I started there a year ago after a number of incredible tech companies donated close to a million dollars of the latest in dental tech. 5 Trios carts from 3Shape,An Imetric 4D ICAM photogrammetry scanner, a Carbon Printer a full Aman Girbach Ceramill 2 lab mill, over $200,000 in lab work from Burbank Dental lab and tons of Implants and restorative parts from Nobel and DESS. I got a crash course on using Trios, restoring more than just singles, which I am used to in my practice. But I am more comfortable with CEREC and DS Sirona, Asiga and Schein have donated equipment for us to use at another clinic, New Horizons associated with Dr Moody's Implant Pathways, so I found a new home there! One of the goals for us at Brighterway was to deliver all digital full arch prosthetics to people in need, but also, to test techniques that either have only been proven by a few, or to simply do what has never been done. When I started I looked all over the internet and searched PubMed on articles on Digital Hybrids, I found next to nothing. Most stated that it simply cannot be done. I have heard a number of lectures just passively dismiss it, while I saw a number actually doing it. So as a dentist and someone who lecturers, I wanted to be able to say "Yeah I tried that and it did not work." Or I tried that, and I got it to work. . In this case I wanted to see if I could do a Zirconia final hybrid in just two visits. Looks like it worked! I used ICAM 4D and CEREC Primescan to scan both the ICAM scan bodies as well as the soft tissue and linked them together in CEREC.
So the name of the game in any full arch case, whether it involves teeth or not, is getting the bite right. If you do an impression or scan of a single zirconia crown and the bite is off, that sucks. If the bite is way off on a zirconia hybrid you can literally be grinding for hours. This patient had a converted All on 4 denture that we used to get his midline and bite. We scanned with the Imetric 4D scanner and Imetric has these healing abutments that you use to get the soft tissue, both are linked together with composite, "fiducial markers." This will export the bite relationship and will be merged with the Imetric scan.
I got caught up delivering 4 hybrids on two patients and didn't want to keep this gentleman waiting, so my buddy, the incredible Dr Rajan Seth, with no prior experience with Imetric 4D, scanned the upper and the lower on this patient, perfectly in just about a minute an arch. This was later merged with the CEREC scan .
This video shows how we merged the bite information to the soft tissue scan with the model matching function in cerec.
The final and the bite fit great! Designed and made and donated by the incredible folks at Burbank Dental Lab! Did I mention this was only two appointments? Here is the final Pan:
And the last video, the hybrid in the mouth!
We are doing a CEREC Live Patient Implant Course in Phoenix where we will cover CEREC Guide 2, Scanning with Scan Posts for Abutments and Crowns, as well as demoing full arch scanning with Primescan and Digital Dentures! Feb 20-22 2020. If you are a Trios user we can adapt the hands on for you!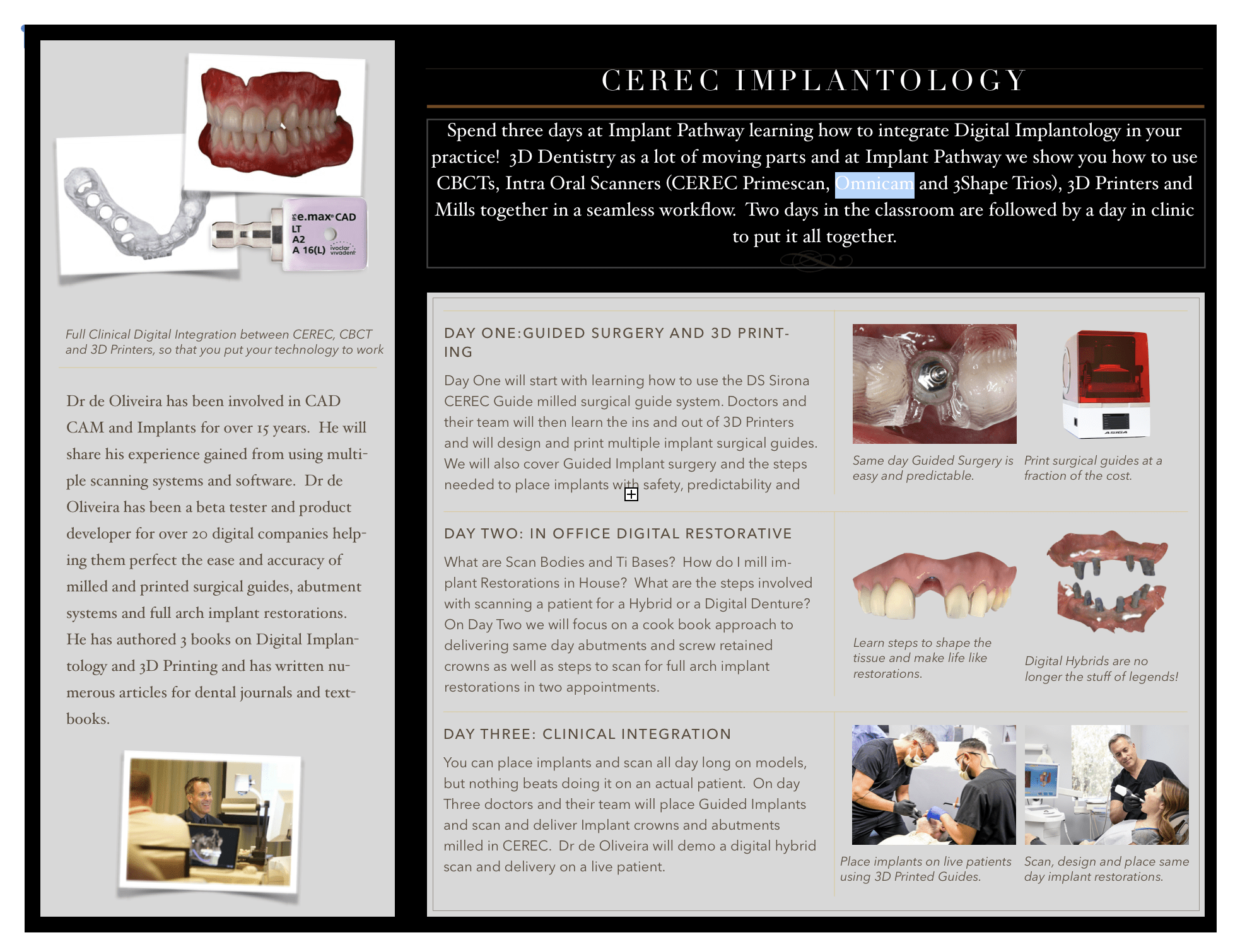 If you want to know how to make guides, aligners, digital dentures and more, come to a 3D Printing party!! Jan 17-18 in Minneapolis!!
https://www.eventbrite.com/e/dental-3d-printing-party-minnesota-tickets-68513003237