I am going to start by saying that this is in no way a perfect case, but I did the best with what I had. Patient broke off #7, and I think most would say that the best treatment was cold steel, sunshine and a little titanium supplement. Planned the case for a CEREC Guide 2 immediate, had some time on my schedule and the patient didn't mind waiting, so I did this in one appointment. A lot don't know the worry of immediate temporization, you have an open socket, and you gotta put a tooth there, but if you use temp material like Luxatemp, you are pouring a bunch of yuck up against the implant. So anything you do outside the mouth is better. But if I placed this and could use CEREC (Legacy 3.0 does not have a CEREC tibase) you can see that I would be really out the facial.
Milled in CEREC Guide 2 using my implant direct keys. I used Trios and the Master Designer, Jacob Farber to design a temp while the patient waited. Jacob is in Minsk, so I was lucky to get him while he was awake! Due to the bone (see the first pic) you can see how angled I am on the facial.
You can see from the original Trios design how out the facial I am. Implant Direct's Off Angle Ti base and associated drivers allow you to place the screw hole 25 degrees to the lingual. Jacob did a great job. Can you mill in CEREC. Hard no. A 4 axis mill can only mill straight down, so you have to choose, either the platform area of the ti base gets milled or the channel. A 5 axis mill can do it, but I don't have one. You can send to the lab, but this dude needed a tooth. Enter the Sprintray Pro! 3D printing really doesn't case where things are angled. Mixed a little Nextdent N1 and N2 to get A1. 1mm concave gingival pink collar with the Smart Base. Stained with Enamel Composite stains and cemented with Ivoclar Multi-Link Hybrid Abutment. Yes I blunted the distal papilla with my elevator but I am sure it will grow back.
We are doing a CEREC Live Patient Implant Course in Phoenix where we will cover CEREC Guide 2, Scanning with Scan Posts for Abutments and Crowns, as well as demoing full arch scanning with Primescan and Digital Dentures! Feb 20-22 2020. If you are a Trios user we can adapt the hands on for you!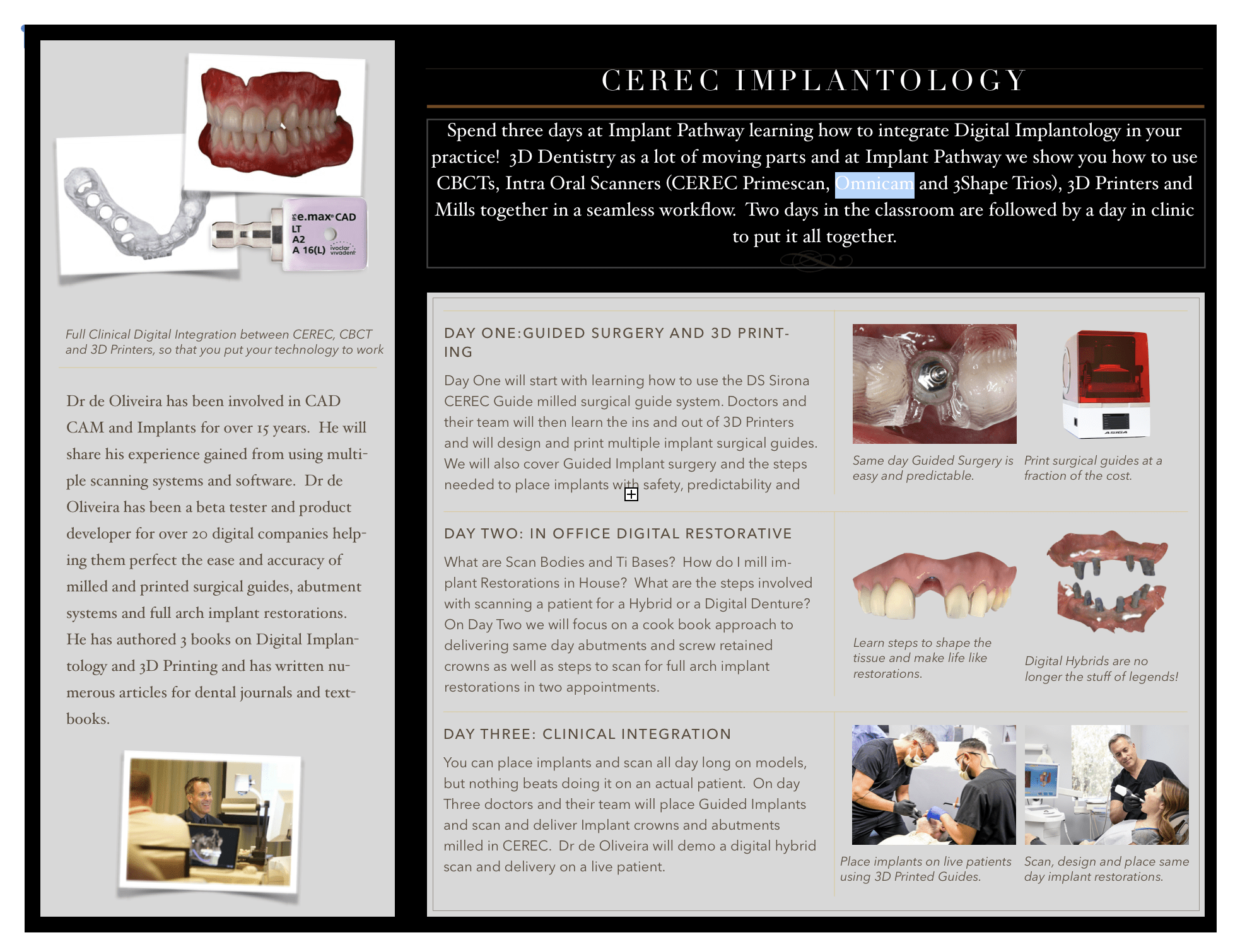 If you want to know how to make guides, aligners, digital dentures and more, come to a 3D Printing party!! Jan 17-18 in Minneapolis!!
https://www.eventbrite.com/e/dental-3d-printing-party-minnesota-tickets-68513003237